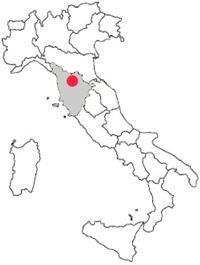 Address:


via Poggio alla Guardia 12
(also called "

via del Crinale

")
51018 Pieve a Nievole (Pistoia)
Toscana
ITALIA



Attention:


The location and the road to

Pontenoyu

is not present on all browsers! It is recommended that you use the coordinates for accurate positioning.



Per navigatore GPS:


North 43° 53' 59.02" East 10° 48' 38.58"
North 43.899728 East 10.810717


Instructions to reach us:
Highway A11 Firenze-mare, exit Montecatini Terme
Turn right and take Viale Roma turning right again
Turn left accross the level crossing and turn right into Viale Matteotti
Continue for 1,4 km crossing via Mimbelli e via Colonna
Turn left and take via Vergaiolo
Continue for 650 m and take the 2°street on the right (remaining on via Vergaiolo)
Continue for 2 km until you reach the ridge of the hill
Turn right and continue for 500m
Welcome to

Pontenoyu!